Steambrite Cleaning Services
Welcome to Steambrite Cleaning Services!
As a family owned business with over 25 years steam cleaning experience, making sure to deliver great customer service, delivering amazing results, and giving you a fair price are important to us and our reputation. We offer a written quote and on-site evaluation of your furniture and flooring to make sure your needs and expectation are always understood and met. 
Steambrite Cleaning services are IICRC-certified and have been an Angie's List Super Service Award Winner two years in a row! For a 5 star service experience with a great price, contact us today as we usually can offer same day service! Get scheduled for precision flooring, upholstry or mattress cleaning service today when you call Steambrite Cleaning Services.
If you live in or near Pinellas County, it would be our privilege to give you a free estimate or to answer any questions or concerns. We use the latest bio-degradable cleaner technology and powerful truck-mounted steam cleaning systems. So, find out why Pinellas County area residents demand Steambrite. Call us for your free estimate today!
Steambrite Carpet Cleaning Technology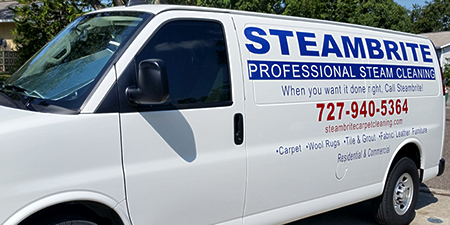 Many carpet manufacturers require your carpet cleaned regularly for the warranty to remain in effect by an IICRC certified technician. All of Steambrite technicians have this certification, so you can protect your investment while enjoying a cleaner and softer carpet.  If you are looking for warranty service for your carpet Steambrite will review your warranty depending on your carpet and help you decide on what services are needed since they vary. Steambrite offers the best technology in carpet cleaning.
With powerful truck-mounted equipment, and professionally trained technicians, our state-of-the-art system deep cleans your entire carpet and takes care of those problem areas. First, we spray a specially heated cleaning solution that gets deep into the carpet fibers to loosen the dirt. Then we complete our two-step process using a powerful extractor and pH-balanced fiber rinse to remove dirt and the cleaning solution. Cleaning carpets once a year will reduce dust mites and allergy causing pollens resulting in cleaner air and beautiful softer carpet that will stay cleaner longer without a soapy residue. You will see and feel the difference, guaranteed.