Sanitizing Services by Steambrite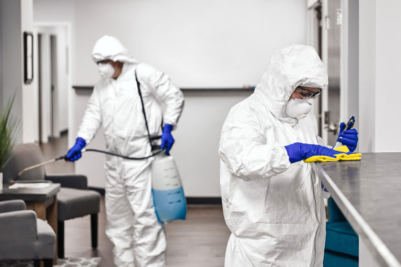 We have been sanitizing homes and businesses to eliminate germs and bacteria. We know that a safe and healthy home or business is more important than ever. That's why Steambrite offers Bacti Barrier to give you peace of mind in your home or business to stay healthier and safer longer with sanitation services. 
We recommend cleaning first and then applying Bacti Barrier, but the sanitizer can be applied without cleaning in some applications. (Surfaces must be clean to apply.)
Safe, penetrating disinfecting and sanitation services
Professionally-trained technicians using PPE and following CDC recommendations.
Use of disinfecting solutions that are used in Schools, Hospitals, food services, gyms, hotels and many other areas. It' also EPA approved for soft and hard surfaces throughout your home or business.
Benefits of our sanitizing disinfectant include:
Approved by the EPA for use against the SARS-CoV-2 virus, the cause of COVID-19.
Fast-acting so you can get back to home life quickly and safely
Can be used on most surfaces including food contact surfaces per EPA regulations.
Applied using specialized electrostatic equipment to completely cover surfaces without over-saturating them. Also applied with pump sprayers depending on application.
Kills 99.9 percent of germs and bacteria.
Bacti barrier places a barrier that continues to work for 3 to 6 months after application.
 Learn more about our carpet and hardwood floor cleaning services! 
We can customize sanitizing services to your specific sanitization needs.
Call 727-940-5364 for details