Tile & Grout Cleaning Services
Steambrite Cleaning Services provides professional tile and grout cleaning in and around Pinellas County and Tarpon Springs, that is powerful, yet safe.  Tile surfaces are notorious for being challenging to keep clean.  If you have tile floors, you know that regular sweeping and mopping does not always get them clean, especially if you are trying to clean up stubborn dirt that has settled into grout lines, tile grooves, and pits.
While it doesn't take too long for tiled floors to start looking too dirty and worn down, cleaning them up can take a significant amount of time and effort. This is why you need our professional technicians on board. Our team inspects your tiled floor to work out the best cleaning solutions and steam pressure needed to clean them up.
We even have truck-mounted cleaning systems and customized surface cleaners that promise excellent results!
cleaning systems and customized surface cleaners that promise excellent results!
Bathroom Tile and Grout Cleaning Makes Your Shower or Bath Shine Again
Your bathroom is constantly exposed to soap scum, grime, and dirt that builds up. If your bathroom tile floor, walls, or shower do not look their best, let Steambrite's bathroom tile and grout cleaning services help. With our bathroom tile cleaning service, your bathroom will not only look great but have a deep clean that normal household cleaners cannot deliver. Call us today for bathroom tile that not only looks great but shines.
Call Us Today at 727-940-5364 for Bathroom Tile That Shines!
Kitchen Tile and Grout Cleaning Services for Surfaces that Sparkle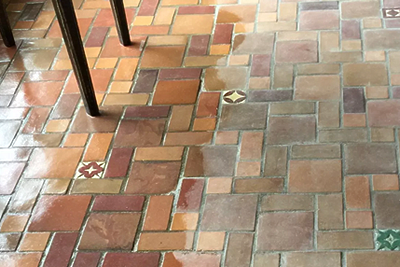 We use a powerful cleaning solution designed for stained, greasy, and dirty kitchen tile floor cleaning. Our professional kitchen tile and grout cleaning services will leave you with a kitchen that not only sparkles but is super clean and bright.
Seal the Deal of Great Looking Tile with Our Protective Tile Sealant
We recommend sealing your grout after it has been cleaned.  This extra protector seals the grout, making it resistant to spills and stains.  Also very important, our protective tile sealant makes it easier to clean in the future and keeps your grout looking cleaner longer.
Fantastic Ceramic Tile Cleaning and Many Other Types of Surfaces
If you are looking for superior tile cleaning, call Steambrite today.  We also clean stone pavers, smooth concrete, porcelain, marble, granite, Travertine, Terrazzo and many other floors and hard surfaces.  Our experienced IICRC-certified technicians will have your tile floors looking bright and deep cleaned!
Steambrite is located in Pinellas County, Florida and serves homes and businesses in Pinellas and Pasco counties including Westchase, Clearwater, St. Petersburg, Dunedin, Tarpon Springs, Pinellas Park, Largo & New Port Richey, Palm Harbor, Oldsmar. Call for an appointment today!