Expert Cleaning Services in Trinity, FL
When it comes to professional cleaning services in Trinity, FL, Steambrite Cleaning Services stands out as the premier choice. Our dedicated team offers a wide range of cleaning solutions, from furniture and tile to grout and stone cleaning.
Furniture Cleaning
At Steambrite Cleaning Services, we understand the value of your furniture. Our skilled technicians are trained to clean and rejuvenate your furniture, enhancing its appearance and extending its lifespan.
Tile and Grout Cleaning
Say goodbye to grimy tiles and discolored grout lines. Our tile and grout cleaning experts use state-of-the-art equipment and eco-friendly solutions to restore your surfaces to their former glory.
Stone Cleaning
Natural stone surfaces require specialized care. Our stone cleaning service is designed to clean, protect, and preserve your stone surfaces, keeping them looking stunning for years.
Carpet Cleaning
Our professional carpet cleaning service eliminates dirt, allergens, and stains, leaving your carpets fresh and hygienic. Trust us to enhance the cleanliness and comfort of your space.
Carpet Steam Cleaning
Our carpet steam cleaning method reaches deep into carpet fibers, effectively removing embedded dirt and stains. It's a safe and efficient way to maintain the beauty of your carpets.
Hardwood Floor Cleaning
Hardwood floors add elegance to any space but need regular maintenance. Our hardwood floor cleaning service enhances the natural beauty of your floors and protects their longevity.
Laminate Floor Cleaning
Laminate floors are known for their durability and affordability. We offer specialized cleaning services that leave your laminate floors looking spotless and well-maintained.
Bathroom Tile Cleaning
Bathrooms often have tile surfaces that are susceptible to soap scum and mildew. Our bathroom tile cleaning service ensures a thorough, hygienic, and spotless result.
Ceramic Tile Floor Cleaning
Ceramic tile floors are durable but can accumulate dirt and grime. Our cleaning experts will revitalize your ceramic tile floors, restoring their shine and appeal.
Tile Deep Cleaning
For the most thorough tile and grout cleaning, our tile deep cleaning service is the answer. Our specialized equipment removes even the toughest stains and build-up.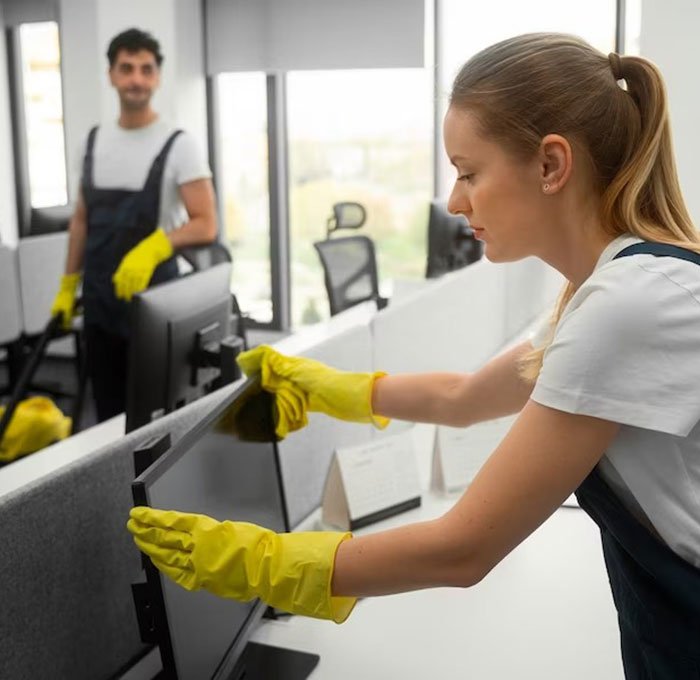 Why Hire a Professional?
Hiring a professional cleaning service is essential for several reasons:
Expertise: Our technicians are trained and experienced in handling a variety of surfaces, ensuring the best cleaning results without damage.
Advanced Equipment: We utilize cutting-edge equipment and eco-friendly products to achieve deep cleaning and exceptional results.
Time and Energy Savings: Let us handle the cleaning tasks, so you can focus on more important matters or simply relax.
Preservation: Professional cleaning helps prolong the life and beauty of your surfaces, saving you money in the long run.
Health Benefits: Our thorough cleaning removes allergens, bacteria, and odors, creating a healthier living or working environment.
In Trinity, FL, Steambrite Cleaning Services is your trusted partner for all your cleaning needs. We take pride in delivering exceptional results and ensuring your satisfaction. Contact us today for a free quote and experience the difference between cleanliness and maintenance. Celebrate cleanliness with Steambrite Cleaning Services – your trusted cleaning partner.